"The XRT has had this great run," Matt Maley, equity strategist at Miller Tabak, told CNBC's "Trading Nation" on Wednesday. "The rally the last couple of weeks has taken it right up to the top end of what's called an ascending triangle formation."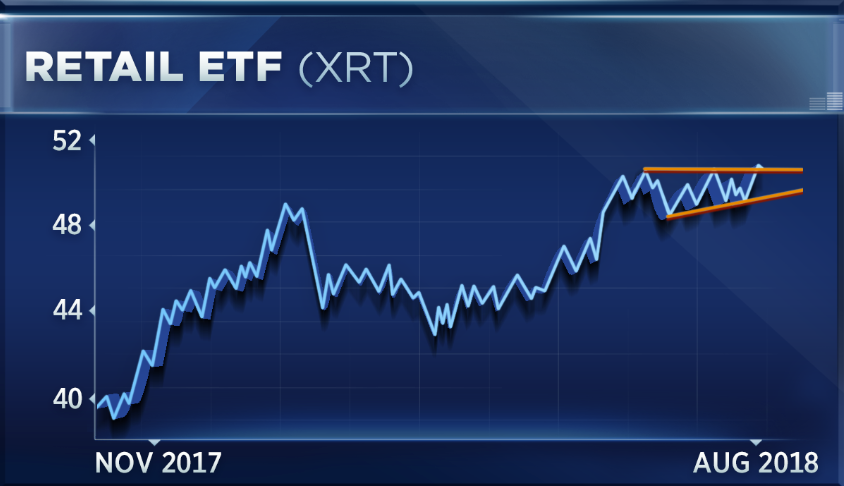 An ascending triangle forms when one trend line marking a series of higher troughs narrows against another trend line marking a level of resistance. It is a bullish technical flag and often portends a breakout above resistance.
"If it can break out further from here, it should get another leg higher if momentum can take it above that level it'll certainly bring a lot of that momentum money into the marketplace," explained Maley.
The XRT ETF is breaking out above its resistance at around $51. The ETF is up 2 percent so far this week, on track for its best weekly performance in a month. If it can hold onto August's gains, it will be its fifth straight month in the green.
Boris Schlossberg, managing director of FX strategy at BK Asset Management, is skeptical that the rally can continue.
"It's certainly been a big recovery but I'm leery because I think we've reached peak growth in Q2," Schlossberg said on Wednesday's "Trading Nation." "Amazon is going to take away a huge amount of market share this Christmas season simply because shopping is no longer an entertainment experience. It's really a nuisance for a huge swath of the population."
Amazon's sales have been on the rise even as retail makes its recovery. The e-commerce giant most recently posted a quarterly sales increase of nearly 40 percent.